Welcome to Zebra class.
Summer Term 2016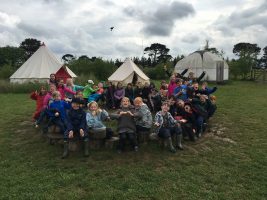 Wow! We have had a really exciting summer term so far.  The highlight has been our class camp to Camp Kernow.
As you can see, we stayed in a range of interesting tents.
Our 3 days were jam packed with activities from dawn till dusk.

We also learnt alot about how we can help to support the environment.  The camp is 'off-grid', which means they make their own electricity, pump water from the ground and have to compost their own waste (including the loos!).  At meal times, we were challenged to have zero waste.  We tested this by putting our bowls on our heads.
Summer Term 'I am proud of..' blog
Our homework this term has been to write a blog piece each week about something we are proud of.  It has been fascinating to find out about all the activities and adventures Zebra class are involved in outside of school.