Our Links with India….
The UKIERI (UK India Education and Research Initiative) project was funded by the British Council with the purpose of fostering links between schools in India and the UK.  Gorran School has been involved, along with three other Roseland cluster schools, for three years. We have developed a relationship with six schools from the Punjab which started with teachers from each country visiting each other to further understanding, give talks to children about our cultures, and learn about each other's educational provision.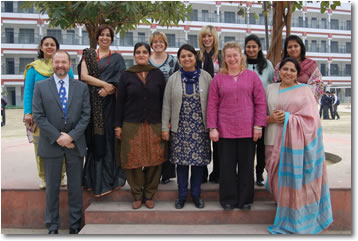 In 2011, teachers and principals from schools in Jalandhar and Chandigarh visited our schools in October, and Mr Sleep and colleagues from Gerrans, Tregony and The Roseland School returned during the February half term. They had been asked to deliver staff training on Phonics, Cross-curricular topics, Assessment for Learning and and Provision for children with Dyslexia. . In 2013 teachers from Jalandhar stayed at Gorran School and shared many aspects of life in India with our children. It was a very successful visit, and we hope to continue to develop these links
Our Links with Africa….
Every other year we play host to the Pearl of Africa choir, and along with the Roseland Community College and other cluster schools, attend concerts and workshops held by the choir. The local children benefit enormously from these sessions as they experience a different style of music and learn to play extraordinary instruments taught by the children of the choir.  There are now some reciprocal trips being undertaken through the Community College.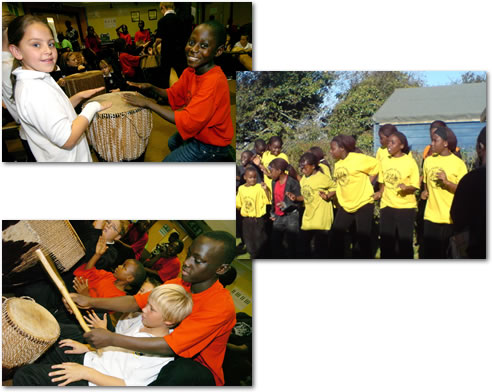 Two local boys set off from Lands End to Cape Town, equipped only with two bikes and some bare essentials. The children have followed their every twist and turn with increasing interest and anticipation. The trip was finally completed at the beginning of March and their return is now eagerly awaited in school.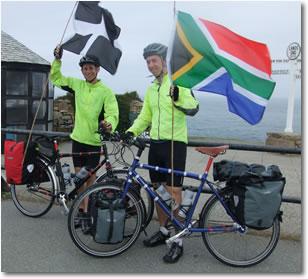 Our Links with France….
We have begun to make links with the Ecole Notre Dame in Brittany, in order to experience the culture of our European neighbours. The children have exchanged work and we had a delightful Skype call at Christmas, where the children sang carols to each other!
Our Links with The National Trust….
Gorran School is very lucky in its association with the local branch of the National Trust.  We have a warden assigned to us and the children participate in all aspects of countryside and coastal management.  Local projects include the development of an orchard, fence and wall maintenence, the building of a cob oven and cob benches etc.  and beach trips and rock pooling.