Welcome to Giraffe Class!
We have a lovely bright classroom with lots of toys and games as well as an outside area so that we can explore whatever the weather!
Our teacher is Mrs Rawlings,  she is funny and we like playing with her. Mrs Guest plays lots of games,  sings songs with us and helps us with our letters and sounds. This year Giraffes is made up of 19 Foundation Stage children.
Being a Giraffe means learning how to be a good friend, trying a whole range of activites and experiencing just how fun school can be!
In the Autumn Term our topics were 'All About Me' and 'Food / Winter Festivals'.
This term we have carried on learning about Winter as this really interested all of us before the Christmas break. We now know all about the animals that live at the North and South Poles, how ice is formed and which animals hibernate and why. Up until half term we will be carrying on our Winter topic and then moving into learning about Toys. If you have any resources you think may be useful then please bring them into school.
Below is a link to our topic overview:
Each Friday we go for a Welly Walk around the local area and use this to help us learn even more about our topic and where we live.
Here are just a few photos of all the exciting things we have been getting up to recently.
We have been using loose parts to make winter patterns, both in the classroom and out on our Welly Walks.
We have made an igloo in our classroom and used nearly 200 milk bottles – thank you to everyone who collected and donated all the bottles!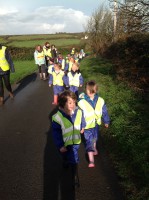 Off on our very first Welly Walk!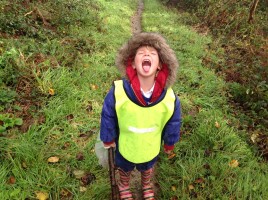 Catching raindrops on our tongues!
We had an amazing trip to Pizza Express in Newquay. We made our own pizzas, ate them on the beach at Watergate Bay and then created an enormous pizza using all sorts of interesting things that we found on the beach.
Even Katie's dad had a great time! Isn't he good at spinning the pizza!